Post by FGA Office on Jul 14, 2016 23:00:32 GMT -5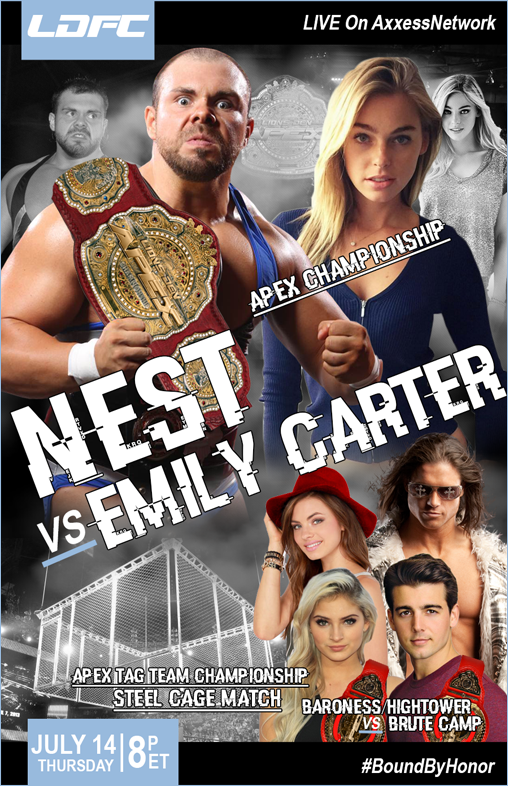 07.14.16
Hanes Gym, Greensboro College
Greensboro, NC
AxxessNet
Geoff Penzer:
Hello and welcome to Bound by Honor! I am your host, Geoff Penzer! Tonight, LDFC presents to you its latest supershow, courtesy of AxxessNet! Tonight, all three championships will be on the line, in addition to the Carolina Cup!

In the previous three Carolina Cup matches, two LDFC students defended the cup while a guest wrestler won the cup. Tonight, Aria Banks of the famed Banks family is looking to become the second guest to win the Carolina Cup. Tonight, she goes up against the man that threw her into a mirror a few weeks back, Prince MacRear. It isn't a secret that MacRear has struggled in many high profile matches during his tenure here in LDFC. According to MacRear, this has happened because "the universe is against him." Well tonight, MacRear tries to overcome both Aria and "the universe" to hold the Carolina Cup.

In tag team action, Brute Camp will defend the APEX Tag Team Championship inside of a Steel Cage as they take on the team of The Crimson Baroness and Keegan Hightower. Two months ago during the At All Costs supercard, Brute Camp had the Baroness and Hightower beat until Anita Handey interfered and slipped the Baroness' bat into the ring. The Baroness then hit Becky over the head with the bat to pick up the win. Tonight, Brute Camp are out for revenge and they're looking to finish this once and for all. Will they get their long awaited revenge? Or will the Baroness and Hightower somehow sneak out of here with the Tag Titles?

In our main event, Nest defends his APEX Championship against Emily Carter. Nest has been a dominant champion throughout his run here in LDFC. But tonight, he faces someone that claims isn't intimidated by him in Emily Carter. Nest has all but dismissed Carter as a challenger. But will that prove to be a costly mistake? Can Carter do what several others couldn't and defeat Nest for the APEX Championship? Or will Nest destroy the dreams of yet another challenger?
We've got so much action for you tonight. Let's send it down to the ring where Melanie Sierra is ready to call the ring introductions for our opening contest! Melanie...